The T.C. Steele Historic Trail has reached the proposal stage for Phase I which is the development of a "virtual experience-based trail" that is enabled by Progressive Web Application (PWA). This web application is a type of application software delivered through the web using common web technologies. The PWA works on any platform that uses standards-compliant browser, including desktop and mobile devices.

Additionally, by using a "virtual platform" this allows users who may home-bound, out-of-state, and international visitors and researchers to "experience" the key Indiana sites affiliated with T.C.Steele's life by interacting with the virtual trail. This application can also be used for students and classroom learning, as well as creating more awareness of this remarkable man born in Indiana, who lived and painted in Indiana his entire life (1847-1926).
The idea for this historic trail has been identified over the years from feedback, inquiries and frustration of not being able to learn more about T.C. Steele, his life and experiences beyond the State Historic Site (Belmont, IN). The trail will highlight seven key areas in seven Indiana counties.
All sites on the virtual trail have unique distinction as key areas in Steele's life in Indiana.
Three of the seven sites are listed on the National Register of Historic Places.
One has an Indiana Historical Society marker on the property.
One site has a Daughters of the American Revolution historical marker.
One site has an Indiana University Historical marker.
This suggests the historical importance of T.C. Steele's life and work throughout Indiana.
Specific T.C. Steele Historic Trail sites/markers includes:
T.C. Steele State Historic Site (listed on the National Register of Historic Places)
T.C. Steele's Boyhood Home (listed on the National Register of Historic Places)
T.C. Steele's (former site of his turn of the century home + studio "Tinker Place") in Indianapolis which became the John Herron Art Institute and later the first Indianapolis Museum of Art (Indiana State Historical Marker at this location).
T.C. Steele's home and studio his wife Libby named "The Hermitage" in Brookville, IN, a home owned by T.C. Steele and fellow Hoosier Group artist J. Ottis Adams (Listed on the National Register of Historic Places)
T.C. Steele's Studio in Franklin Hall on Indiana University's campus in Bloomington where Steele was the first painter in residence (Indiana University Historical Marker outside of Franklin Hall).
T.C. Steele's birthplace, and relatives burial sites in Gosport, Indiana
T.C. Steele's affiliation with DePauw University campus in Greencastle where he took painting lessons as a young man and later taught classes.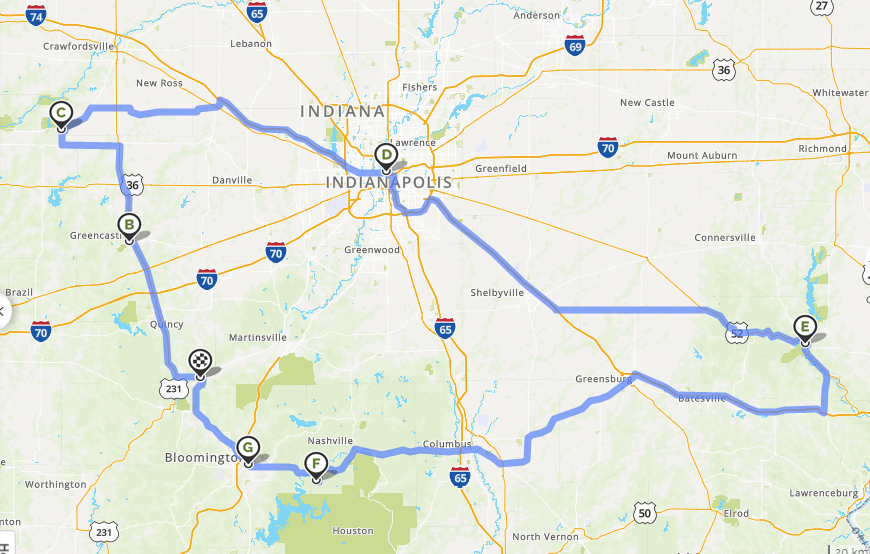 The proposed trail's historic sites are located in the following Indiana counties: Owen, Putnam, Montgomery, Marion, Franklin, Brown and Monroe. The application offers the user a wide variety of primary based research findings, historical and current photos, and illustrate highlights of T.C. Steele's period in the location being "virtually visited". Paintings completed from the period he lived in a specific geography will be available as well.

The app will track which of the 7 historic points the user has visited and award a digital certificate upon completion for the trail (passport). Friends of T.C. Steele members will have access to their virtual passports directly from their existing tcsteele.org member accounts, and new users may register with just a name and email address. An admin interface will offer statistics about app engagement and site visits.
Upon implementation, visitors will interface with the T.C. Steele Historic Trail from their desktop or from the app. The key experiential drivers are:
Ease of usability via desktop or mobile application.
Experiential virtual visit opportunities to learn and engage 7 sites and learn about T.C. Steele's work during his time at each of the sites.
School and classroom lesson plan and learning applications
National, international visitors and researchers have rich content and broader understanding of T.C. Steele, his life and work. 
Virtual community-based interaction (discussion groups) to leave notes on the sites and  generate observations, learnings and discussion among virtual visitors.
Appreciation of the contribution/impact of T.C. Steele over 78 yrs.