The adventure begins 2023!
The T.C. Steele Historic Trail is a conceptual idea that is in the very early stages of gaining support and input. Many Steele followers have inquired and discussed this concept and we believe it is time to move forward. The concept for the trail will be highlighted on this site as a means to gain understanding, support and input.
The historic trail will be planned in two phases:
Phase I will be a virtual trail available by visiting trail.tcsteele.org where visitors can learn about each of the 7 locations. The trail will also have a virtual gallery, description of the area and importance of the location, as well as nearby activities.
Phase II hopes to include the addition of a permanent marker at the 7 locations. Some very early thoughts include the proposed historic trail to have GPS service and historical information via podcast available through a smart phone app. Phase 2 would be just over 300 miles by car or bike.
Both phases would include a "passport" available for trail enthusiasts who can pursue having all 7 geographic locations stamped at approved locations along the trail, or electronic validation (stamping) if the completion was virtually. Our concept is that upon completion of all stamps, we would have a dignitary sign the passport and provide a signed certificate and holder for the completed passport.
We welcome your ideas & suggestions.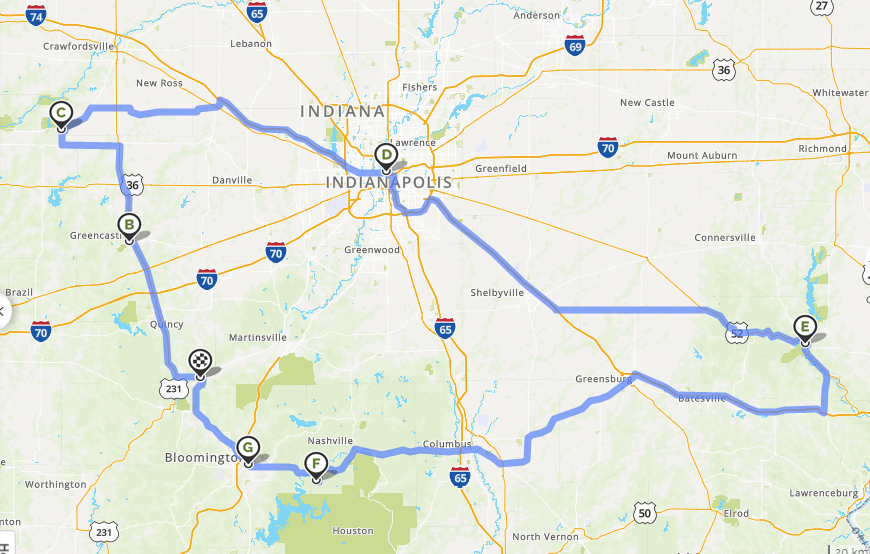 A: Gosport: Birthplace
B: Greencastle: DePauw University (Indiana Asbury University)
C: Waveland: Boyhood Home
D: Indianapolis: Tinker-Talbott Place
E: Brookville and Metamora: The Hermitage
F: Nashville: House of the Singing Winds
G: Bloomington: Franklin Hall at Indiana University