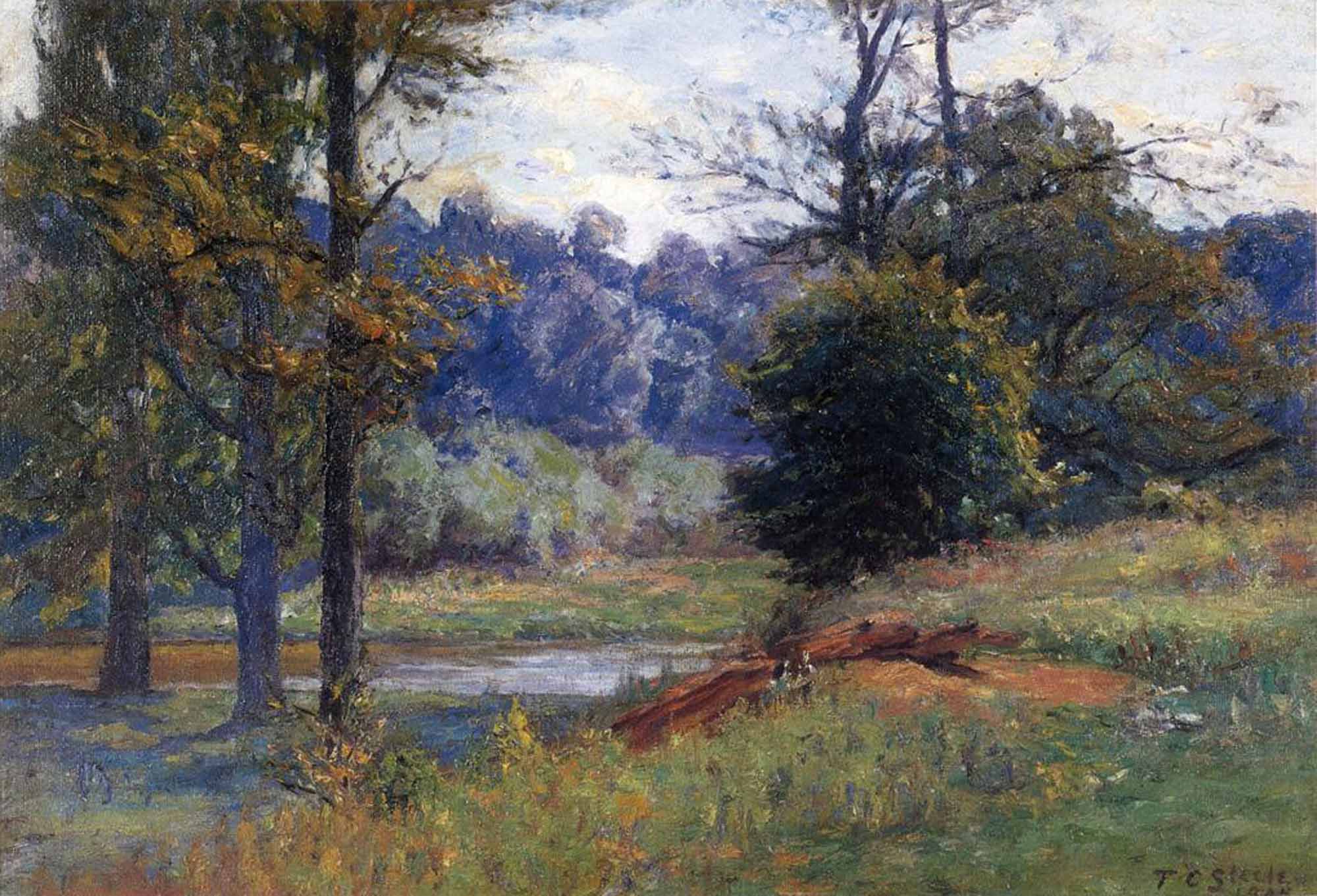 Theodore Clement Steele, American, 1847–1926
1905
Oil on canvas
55.88 cm x 81.28 cm | 22 in x 32 in
Signed and dated lower right, T.C. Steele / 1905
Private collection, George Koch Sons, Inc. Evansville, Indiana¹
In the summer of 1905, T.C. Steele painted near Zionsville (Indiana), a small village just northwest of Indianapolis. He then returned to Brookville, where he and fellow Hoosier Group artist J. Ottis Adams painted in their adjacent studios at the Hermitage in Brookville, Indiana.²
Not much is known about this painting. It was in private collection for many years, as noted in the provenance heading above. The painting now resides again in private ownership.
The book, Theodore Clement Steele – An American Master of Light is highly recommended, and includes thirty-eight color painting selected for this volume, many never reproduced before. They include carefully selected Steele works from Indiana and painting during his travels to Germany and the Pacific Northwest. This painting, Along the Creek (AKA Zionsville), is featured on page 65 of the book.
The author William H. Gerdts, died April 14, 2020 from complications of COVID-19 at 91 years of age. His career established him as a distinguished scholar and teacher of the history of American painting and sculpture of the 18, 19th and earlier 20th century. He was professor of Art History at the Graduate School of the City University of New York. He held this position from 1971 to the time he assumed Professor Emeritus status in 1999.
Dr. Gerdts published a ten page article by the same title; Theodore Clement Steele – An American Master of Light, that was featured in American Art Review, Vol. VIII No. 4, September – October 1996.
---
¹Theodore Clement Steele, An American Master of Light, William H. Gerdts, Published in Association with Evansville Museum of Arts & Science, Evansville, Indiana, Chameleon Books, Inc. New York, New York, 1995, pg. 65.
²The House of the Singing Winds, Selma N. Steele, Theodore L. Steele, Wilbur D. Peat, Indiana Historical Society, Indianapolis, Indiana, 1966, pg. 52.