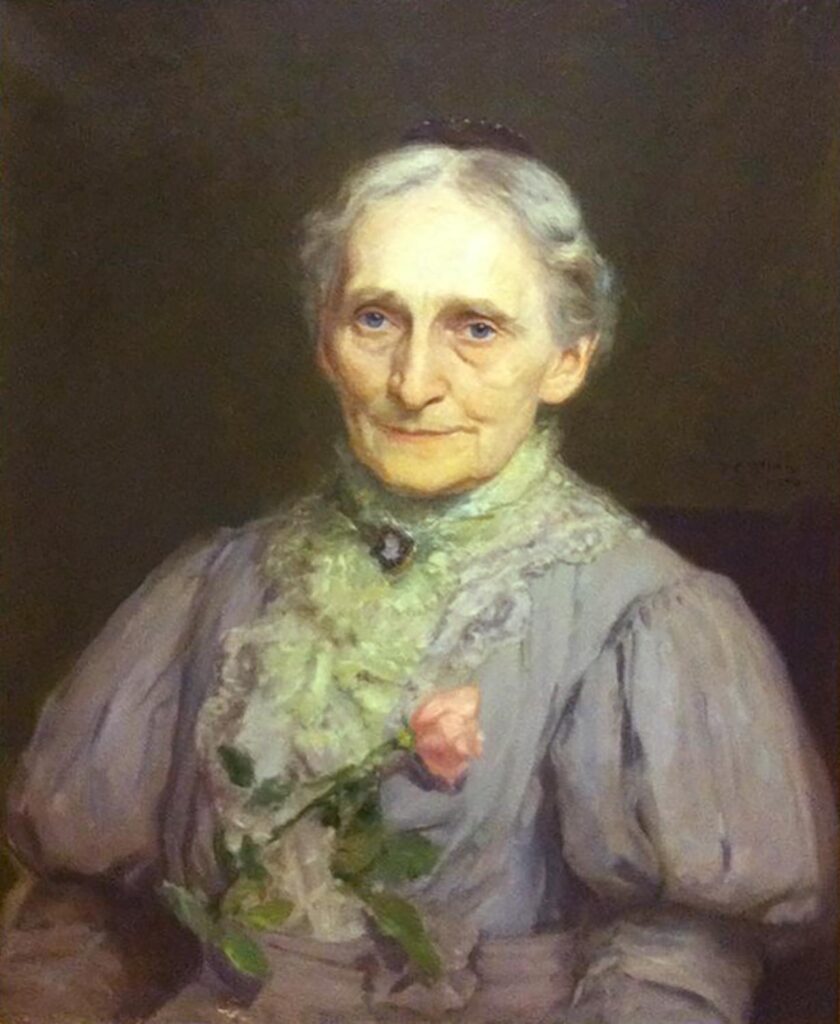 Theodore Clement Steele, American, 1847–1926
1890
Oil on canvas
68.58 cm x 55.88 cm | 27 in x 22 in
Portrait hangs in Office of the Provost, Butler University
Signed and dated middle right near shoulder/top of chair back T C Steele / 1898
Nameplate on frame bottom center; top line Catharine Merrill, bottom line 1824-1900
With permission, Butler University, Indianapolis, Indiana
Catharine Merrill (1824-1900), was an educator, author, and American Civil War nurse. She became the first female professor at Butler University in Indianapolis, Indiana and became the second woman to in the United States to be named a professor in an American University. After her retirement from Butler University, Merrill continued to teach literature from her home where she lived quietly, never seeking fame. Her long life and career as an educator, nurse and college professor opened doors for other women during the early years of the progressive era.
"During the late 1800's and early 1900's women and women's organizations not only worked to gain the right to vote, they also worked for broad-based economic and political equality and for social reforms. Between 1880 and 1910, the number of women employee in the United State increased from 2.6 million to 7.8 million. By 1896, Women had gained the right to vote in four state (Wyoming, Colorado, Idaho, and Utah). Women and women's organization also worked on behalf of many social and reform issues."1
Catharine Merrill was taught by her father Samuel Merrill and cultivated a love of literature, which became her specialty. Her mother encourage her to write and she maintained a diary that later became a book Catharine Merrill: Life and Letters, edited by her niece, Catharine Merrill Graydon and published in 1934. In 1859-1860 she took her younger siblings on an educational tour of Germany, and wrote a series of travel letters, which were published in the Indianapolis Journal.2
Following in the footsteps of her father, who also taught school at times, she began her teaching at a private school father Samuel Merrill founded in the family's home in Indianapolis. As the school's enrollment increased, it move to the basement of the Fourth Presbyterian Church at Market and Delaware Street. The school became known as "Miss Merrill's School".
A group of local women, many of whom were Merrill's former students, founded the Catharine Merrill Club in 1885 and named it in her honor. In 1889, the club commissioned T.C. Steele to paint Merrill's portrait and presented it to her as a gift. The painting was later donated to Butler University, where it remains today, hanging in the Office of the Provost.
Her father was Samuel Merrill was Indiana's state treasurer who was responsible for moving the treasury of the Indian State Capitol in Corydon, Indiana to the newly named capitol "Indianapolis". The trip Corydon to Indianapolis at this time took 11 days, and the move began in 1824, the year of Catharine's birth.
After locating to Indianapolis in 1850, Samuel Merrill bought a bookstore, and entered the publishing business. His company evolved into Bobbs-Merrill Company, which became a publishing powerhouse by the turn of the century. It is likely books that you have read were published by this leading company at the time.
In 1931 when Bobbs-Merrill took a chance on a homemaker named Irma S. Rombauer who had just self-published a cook titled "Joy of Cooking". This classic found in countless American kitchens, has sold more than 18 million copies since 1959. In 1900, Bobbs-Merrill published Frank L. Baum's The Wonderful Wizard of Oz, and it many sequels which has become ingrained in American Culture. Bobbs-Merrill published the 1929 Pulitzer-winning novel Scarlet Sister Mary by Julia Peterkin. Samuel Merrill's success and impact on our city merited the naming of "Merrill Street" in downtown Indianapolis in his honor.
She developed a deep friendship with John Muir and cared for him when injured while working in a factory in Indianapolis. Muir, noted naturalist and conservationist, founded the Sierra Club and known as "The Father of our National Parks".
John Muir wrote "Words from an Old Friend", a tribute to Catharine Merrill and she published it in her book "The man Shakespeare and other essays".
Catharine Merrill & John Muir
Muir was born in Scotland in 1863. His family immigrated to the United States in 1849, settling in Wisconsin. Muir attended the University of Wisconsin for a while, but did not graduate. He then moved to Canada and worked at a room and rake factory as a mean to fund his research in botany.
In 1866, Muir moved to Indianapolis and took a job as a foreman and engineer at Osgood, Smith & Co., that manufactured hubs and spokes for carriages. He introduced labor-saving improvements at the factory, located at 230 S. Illinois Street, and became a pioneer in workplace efficiency. Muir also was an inventor. He refused to patent one of his inventions while at Osgood, saying, "All improvements and inventions should be property of the human race".
In 1867, Muir suffered an injury to his eye using a sharp tool to remove a belt from a machine. The injury left him temporarily blind. Muir befriended Catherine Merrill who was a Civil War nurse and highly educated. Muir was under Catharine Merrill's care while he recovered from his injury. His injury gave him a chance to reflect on his life and gain a deeper appreciation for nature's beauty. Once Muir was able to travel, he set foot out on a 1,000-mile walk, from Indiana to Florida.
Muir never forgot his friends in Indiana and kept in touch with them throughout his life. Muir noted in a letter to Catherine Merrill in 1880:
"Going to Indianapolis is one of the brightest of my hopes."³
Catharine Merrill died in her home in Indianapolis on May 30, 1900. Her funeral service was held at Fourth Presbyterian Church and she is buried in Crown Hill Cemetery Section 7, Lot 16.
---
This painting is featured in The House of the Singing Winds, Selma N. Steele, Theodore L. Steele, Wilbur D. Peat, Indiana Historical Society, Indianapolis, 1966 – Plate V.
---
1"Women's Suffrage in the Progressive Era." The Library of Congress. Accessed December 13, 2020. https://www.loc.gov/classroom-materials/united-states-history-primary-source-timeline/progressive-era-to-new-era-1900-1929/womens-suffrage-in-progressive-era/.
2"Merrill-Graydon Family Papers, 1836–1930." Indianapolis: Indiana Historical Society Manuscript and Visual Collections Department, March 3, 1982. https://indianahistory.org/wp-content/uploads/merrill-graydon-family-papers-1836-1930.pdf.
3Mitchell, Dawn. "Retro Indy: Naturalist John Muir Lived in Indianapolis." The Indianapolis Star. IndyStar, December 31, 2019. https://www.indystar.com/story/news/history/retroindy/2014/02/18/john-muir/5578557/.
4Nagley, Lester C. "Butler Alumnus Recalls Two Anniversary Dates." The Indianapolis Star. February 28, 1937.
5Steele, Selma N., Theodore L. Steele, and Wilbur David Peat. The House of the Singing Winds: the Life and Work of T.C. Steele. Indianapolis: Indiana Historical Society, 1966. Plate V (between pages 118 & 119).